The "Kiss Me I'm Queer" t-shirt design, which you can see in the very header of this page, is a response to the classic t-shirt theme. It came about upon the realization that one's sexual orientation is quite pertinent to the proposition of whether you should kiss them or not. The visual was inspired by "
I have never been to NY
," which proved to be quite a challenge considering my limited design and experience. I used my LCD monitor as an improvised light box, and after more than a year of giving up and picking it up again, I was finally finished, or as finished as I was going to be.
While I'm obviously proud of the work that I put into it, I don't expect everyone to like it – in fact, I've gotten very little feedback on it so far. This is the reason why I created this website with a dual purpose – both to showcase my design, and to feature other gay & lesbian t-shirts in the format of a blog.
As far as the Kiss Me I'm Queer shirts, they are currently available for sale at these three places: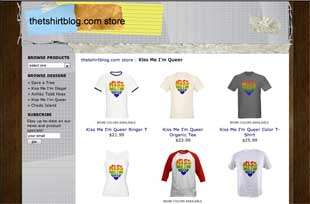 Cafepress is one of the oldest on-demand t-shirt companies on the internet. I've ordered from them several times and came away impressed by their quality and service (a t-shirt didn't fit me, and they sent me a different size at no charge). I definitely recommend their super-soft organic tees.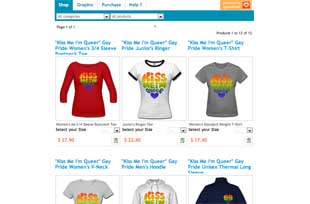 Spreadshirt is another on-demand giant with a wide range of apparel and printing processes.  They are based in Germany, but they also operational base in Boston, which I visited, and came away impressed.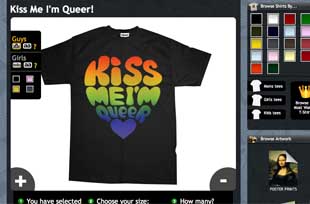 Mysoti, formerly Bountee, is an indie-ish t-shirt printer which I have heard very good things about. They selection of printable tees is rather limited, but it fortunately includes American Apparel.