Kiss Me I'm Queer is my attempt to blog about gay, lesbian, and related t-shirts. I love all kinds of t-shirts (as evidenced by my other tee shirt blog), and this will be an opportunity to focus my efforts and hopefully uncover some really great designs. If you're curious about gay & lesbian t-shirts you can subscribe to all future posts by e-mail.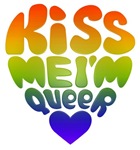 This is also the home of the Kiss Me I'm Queer t-shirt, which I designed in conjuction with this site. It's available for purchase at Spreadshirt, Cafepress, and MySoti, and I'd suggest you check out each one for various sizes and product options.
So feel free to leave a comment and say hello. Let me what you think about my efforts, and definitely share any cool queer-related tees that you may have found online.